UK Import Export Declarations

The Thyme-IT Import-Export solutions allow for data-entry via secure web-based portal, data upload using simple Excel upload options, 2-way data exchange using XML APIs and data sharing with your trading partners. The web-based solution allows import and export declarations to be created quickly and efficiently using templates, user default information and intelligent re-use of previously entered customs data. Declarations can then be easily submitted to HMRC, individually or in bulk.
Import declarations
The Thyme-IT imports solution supports full frontier declarations, simplified declarations and supplementary declarations.
Declarations can be sent to CHIEF or CDS.
CHIEF closes for imports on 30/09/2022.
The Thyme-IT CDS imports solution has been successfully implemented for many customers and has been running smoothly since November 2021.
Export declarations
The Thyme-IT exports solution supports all export declarations including the EXS safety and security declaration.
Declarations can be sent to CHIEF or CDS.
CHIEF closes for exports on 30/11/2023.
The Thyme-IT CDS exports solution will be available in Q2 2023.
Export declarations will be accepted in CHIEF until 30/11/2023 so you can continue to use CHIEF for export declarations until then allowing you to move to CDS at a time that suits you and in a controlled environment.
The Excel upload options are used by companies that may not have all their customs data in one system and the customs data is available in Excel spreadsheets. These upload options allow declaration data to be uploaded to create one or more full declarations or to create items for an existing declaration.
Bulk update of transport information is available for uploaded declarations and declarations can then be easily submitted to HMRC, individually or in bulk.
The XML API option is used by companies who have existing systems that records their customs data. This API provides a 1-way or 2-way data exchange:
Customer system sends data to Thyme-IT system
Thyme-IT system returns data to Customer system
The data is validated upon upload to the Thyme-IT system and responses can be provided back to the customer's system for correction and resubmission, or data can be corrected in the Thyme-IT system.
The declaration can be automatically submitted to HMRC if all data is included in the message or additional data can be entered prior to submission if required.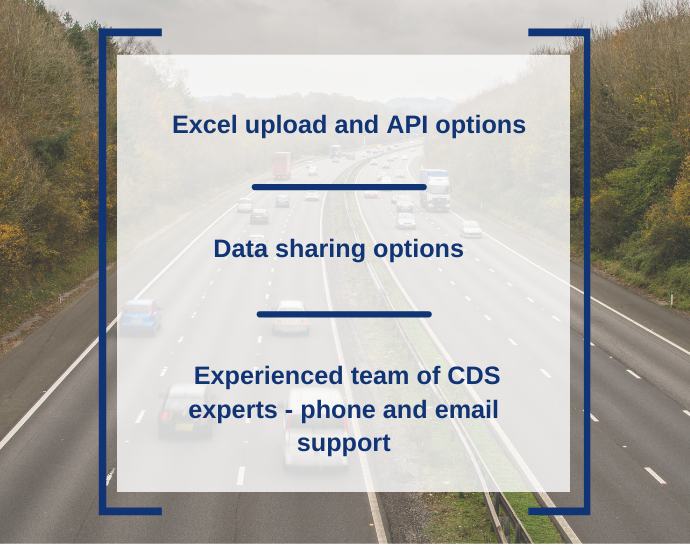 Data Sharing
Thyme-IT provides several data sharing options allowing Thyme-IT customers to share data with their trading partners.
Thyme-IT solutions allow for data to be shared between systems and also provides data extracts in excel, PDF and other file formats.
Data extracts, reports and printed declarations can be shared via e-mail and other communication protocols on receipt of routings and other responses from HMRC.
Data extracts can also be provided on a scheduled basis. The scheduled output can include data for an agreed period of time based on trading partner requirements.
Our experienced team of CDS experts are available to help you move from CHIEF to CDS and will support you during the transition process including registration, badges, testing, TDR and go-live.
For information, demonstration and competitive no nonsense simple pricing call 0161 710 1890 or email info@thyme-it.com.