Electronic Manifest System (eManifest)

Background
On the 18th of October 2014, Revenue will be introducing an Electronic Manifest System that will be used to manage the cargo manifests of all goods entering and leaving the country.
"The Cargo Manifest is an important record in the goods supply chain, containing a list of the goods on a means of transport. It is also important for customs control purposes – it effectively acts either as the first notification to Customs of the arrival of goods or the final confirmation that goods declared for export have actually been exported." www.revenue.ie
Presently, carriers (or their agents) provide manifest information to Revenue in either paper or email format. The introduction of this Electronic Manifest System will eliminate time and cost for the carrier by replacing the paper versions of the manifest with an electronic version and providing it directly to Customs.
What Does Thyme-IT Provide?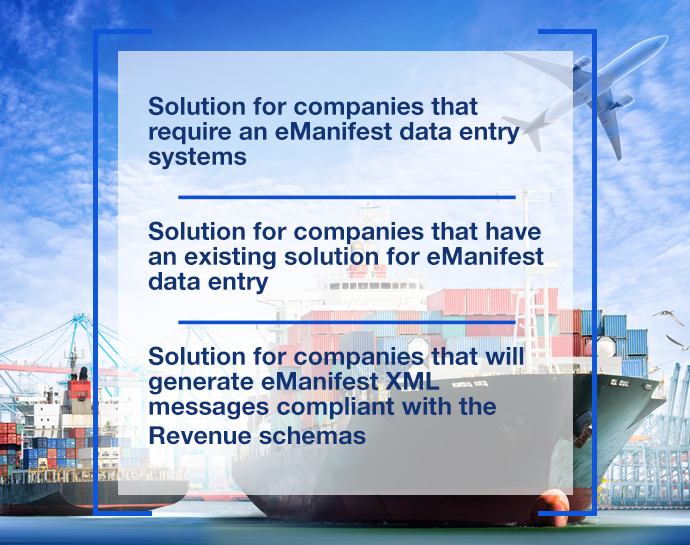 As the leading Customs and Excise solutions provider in Ireland, Thyme-IT has developed an eManifest solution for all companies involved in the movement of goods into and out of Ireland. Our application allows Manifest Declarations to be created and submitted to Customs and for Manifest Declarations to be amended or cancelled.
Thyme-IT Product Offerings In The EManifest Range:
EMANIFEST – DTI (DIRECT TRADER INPUT)
A full solution for companies that require an eManifest data entry system.
Simple web-pages allow for entry and validation of all relevant eManifest information.
Provides the facility to record all required information for the submission of an eManifest, receipt of the eManifest, eManifest cancellation, reminder and redirection.
EMANIFEST – API (APPLICATION INTERFACE)
Solution for companies that have an existing solution for eManifest data entry.
Simple API data format for extracting eManifest data from your application to eManifest – API and onto ROS.
EMANIFEST – WS (WEB SERVICES)
Solution for companies that will generate eManifest XML messages compliant with the Revenue schemas.
The eManifest – WS product will collect your messages, sign them with your digital sub-cert, wrap them in SOAP and transmit them to ROS via web services.