Excise Movement and Control System (EMCS)

What Is EMCS?
EMCS (Excise Movement and Control System) is an integrated computerised system for monitoring the movement of excise goods under suspension within the EU and the UK. This replaced the paper AAD (Accompanying Administrative Document).
Economic operators engaged in excise duty suspended movements within the EU and the UK must have an EMCS application to record the receipt of such goods electronically.
What Does Thyme-IT Provide?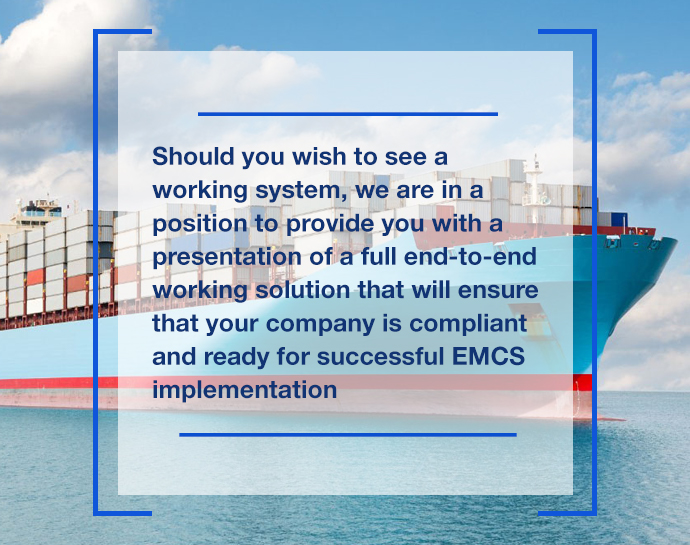 As a leading Customs and Excise solutions provider, Thyme-IT has developed an EMCS-ready solution for all companies involved in the movement of duty-suspended goods within the EU and the UK. Our application provides the facility to submit details of all outbound movements and confirm receipt of goods. Our solution caters for Intra EU/UK movements, EMCS imports and EMCS exports.
Our web-based solution provides the facility to record all required information for the submission of an e-AD (electronic AAD), receipt of the e-AD, e-AD cancellation, reminder and redirection.
We continue to work closely with EU & UK Customs Authorities, keeping the industries involved in the movement of duty-suspended goods informed of requirements. Should you wish to see a working system, we are in a position to provide you with a presentation of a full end-to-end working solution that will ensure that your company is compliant and ready for successful EMCS implementation.
WHAT IS EMCS 4.0?
EMCS phase 4.0 was implemented by the EU & UK to track the movement of excise goods (such as alcohol and tobacco) within the EU & the UK. The system generates electronic documents that accompany the goods throughout their journey, providing real-time information on their location and status.
EMCS 4.0 is available on Thyme-IT since 13 February 2023 and replaces the previous version of the system, which was launched in February 2014. The new version of EMCS introduces an electronic record of internal movement from Point of Import to Tax Warehouse. Companies that process duty-paid movements will also need to register these duty movements through EMCS.