Import Control System (ICS)

Background
The Import Control System (ICS) is an electronic system developed by the European Commission and Member States for the lodging and processing of Entry Summary Declarations (ENS).
An Entry Summary Declaration is an electronic safety and security declaration from the Carrier to the Customs Authorities. It must be lodged in advance of arrival of the aircraft, vessel, truck or trailer. Using EU agreed common risk rules, the Entry Summary Declaration will undergo risk analysis and any appropriate safety and security data will be passed to other Member States where they are identified as being included in the itinerary of the means of transport.
When goods are being brought directly into Ireland from outside the European Community, the Entry Summary Declaration must be lodged to the Office of First Entry (the Irish port/airport where the goods will arrive) within specified time frames. This is to ensure that the customs office can carry out risk analysis on the goods prior to them entering the territory of the European Community. For goods that are brought indirectly into Ireland, the Entry Summary Declaration will already have been made to the Office of First Entry in another Member State.
Thyme-IT ICS Solution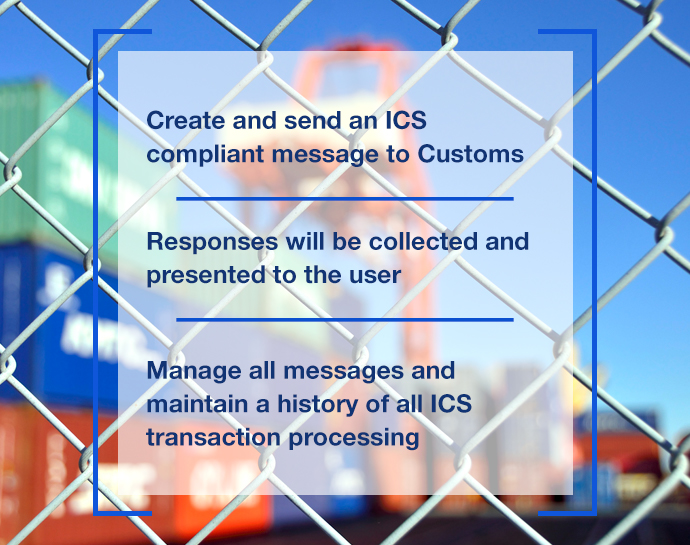 The Thyme-IT ICS Solution will allow you to record, via a number of simple web pages, the required information for your Entry Summary Declaration. Within the application we will ensure that the minimum amount of data required is entered, by providing templates, user default information, data-drop-downs and search screens. All information entered will be validated and recorded within a secure database provided by Thyme-IT.
Our solution will create and send an ICS compliant message to Customs. All responses will be collected and presented to the user, highlighting errors if any exist. The application will manage all messages, highlight invalid messages and maintain a history of all ICS transaction processing.
Facilities to update data provided by ICS, ROS, Europa or any other European agency will be provided within the application. Standard Reporting capability will be provided.